☁ Runs on the Cloud or on premises
Cover IFR/IFD and simulate impact
Everix proposes funds and investment firms a robust and easy-to-use implementation of 2019/2033 regulation with rich view of K-factors available from your browser.
Simulate pre-trade impact on capital of any asset class right from your browser, receive daily reports and be guided on the methodological choices.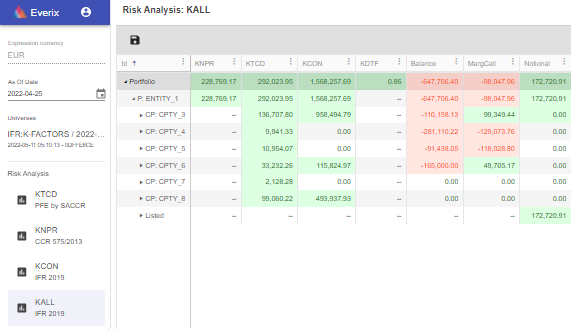 Most investments firms and funds are subject to report K-factors
K-factors rely on different methods of data aggregation depending on methodological choices. This requires significant attention to details, requires a lot of manipulations and is prone to errors.
Figures computed daily and published monthly with internal and regulatory limits . All asset classes covered for listed and OTC derivatives: commodities, equities, interest rate, forex.
We provide full guidance: plugging Everix to your Front-Office system, choosing the most suitable methodology, tuning for your needs, adjusting regulatory reports. No thirdparty contractors, fast implementation, very affordable.
Market Risk: Risk-To-Market (RtM) factors
Scope: listed and OTC derivatives of trading portfolio
K-NPR for uncleared portfolios and K-CMG for clearing or margining upon approval, or both
Automatic replication of the trades in elementary positions to properly net within bands

Goal: Proper capture of netting and hedging effects
Counterparty Risk:

Risk-To-Firms factors (RtF)
Scope: derivatives portfolio for K-TCD and K-CON
Exposure by counterparty = replacement cost RC + PFE potential future exposure
Several options for PFE: standardized approach of CCR 575/2013, SA-CCR, or internal models with justification and approval
Netting and hedging with risk mitigants: collateral balance, CSA attributes (MTA, IA, TH, IM etc.)

Daily monitoring of exposure to check concentration with reporting and warnings
Ready for Initial Margin (SIMM or schedule)

Forecast, stress tests or extreme scenarios

Plug your own VaR or compute it in Everix
Fully compatible with internal model approval
Get ready to see it in action!
Schedule a IFR/IFD demo and talk with us

XVA Engine

SA-CCR Calculator
Learn about the most advanced SA-CCR calculator on the market

Everix Platform
Learn how we achive high flexibility of our XVA solution with Rix aggregation engine