On Premises or in the Cloud?
Calculate XVA fast with explain and what-if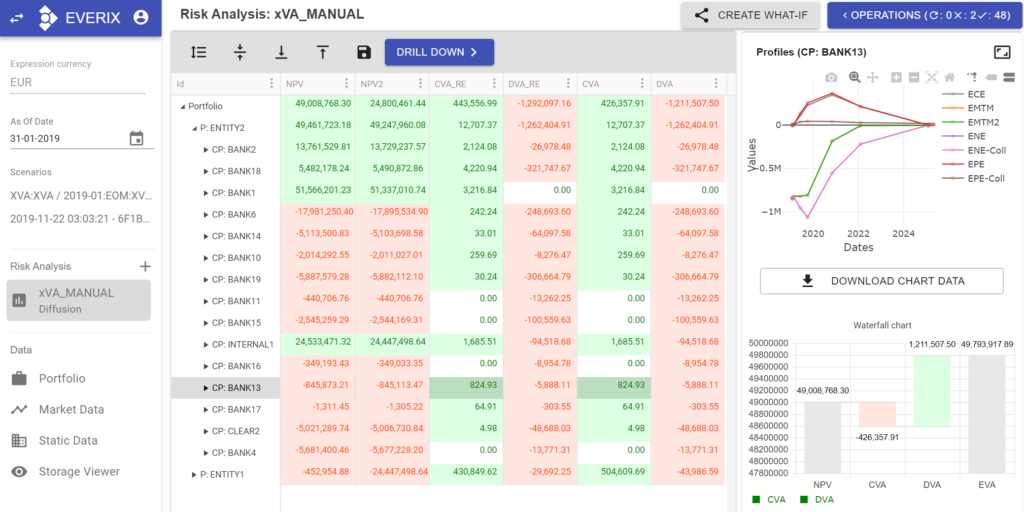 Everix platform covers out-of-the-box standard XVA metrics: CVA, DVA, LVA, FVA, MVA, KVA. All counterparty and market risk computations are efficiently executed on distributed infrastructure: from calibration of models to aggregation of results. 
Years of expertise in risk management and distributed computing allowed us to build this client-proven highly configurable solution.
Exposure computation: RWA
Counterparty risk: CVA, DVA
Funding costs: FVA, LVA, MVA
Capital charges: KVA
Reallocation to deals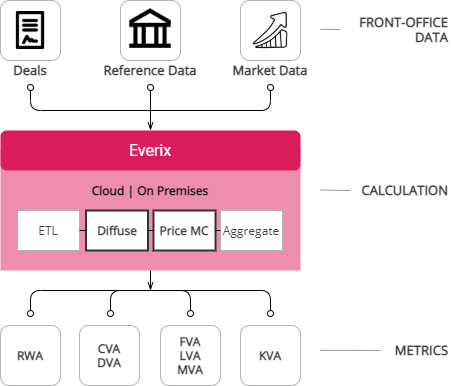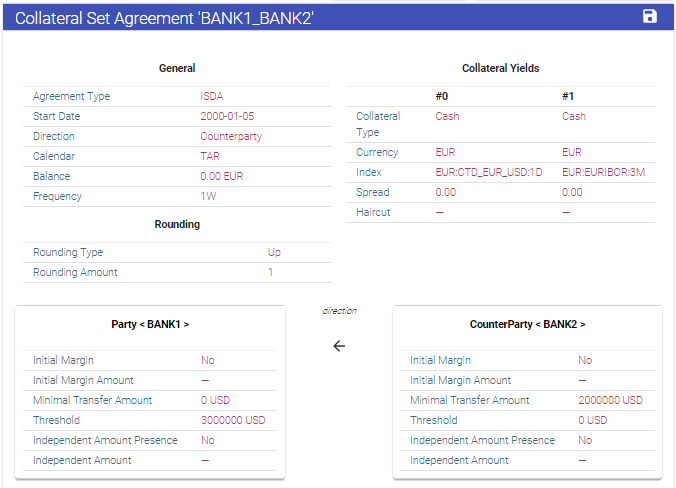 Multiple CSA discounts,
Collateral asymmetry
Breakclauses
Cheapest to deliver
Diffusion of prices
Attributes: MTA, MPOR, rounding, IM, current balance, exchange dates
Assets Coverage and Pricing
Cross assets coverage
CSA bespoke calibration
Native pricing models or your library plugged
Hybrid Monte-Carlo model
Diffusion of all risk factors with correlations
Forward pricing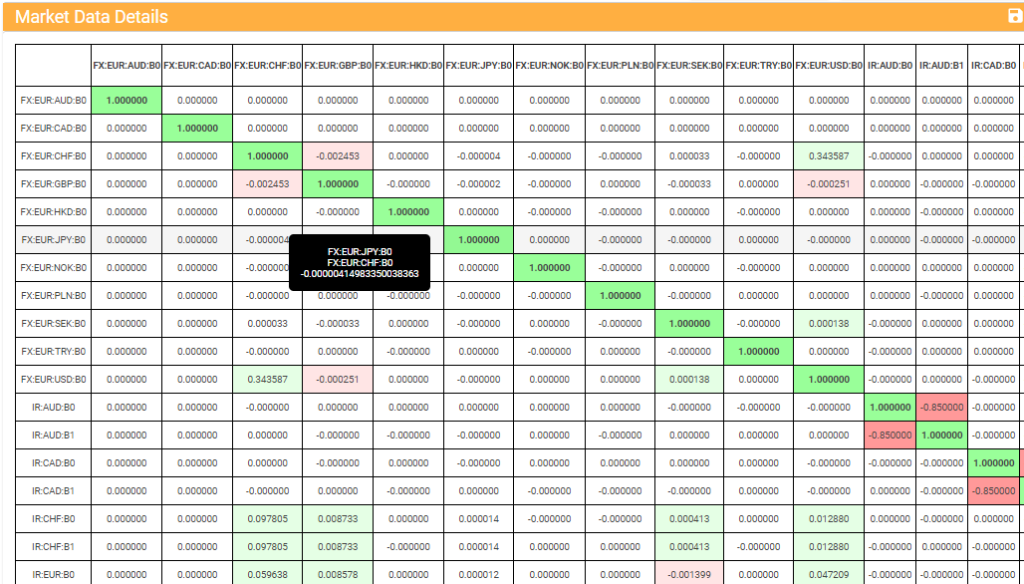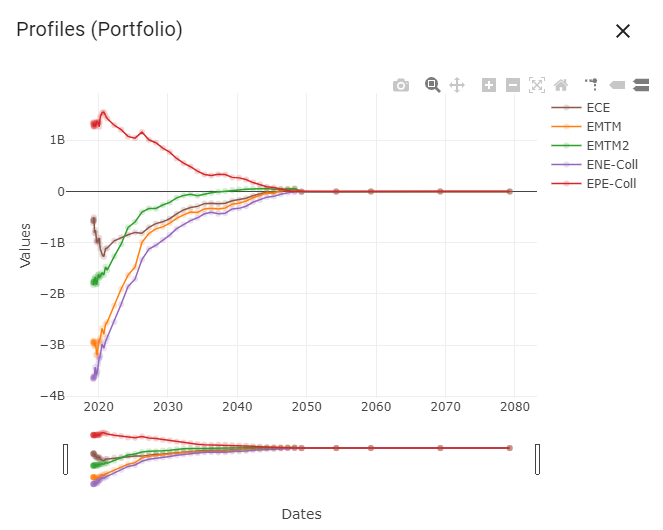 Reporting of results
XVA sensitivites and hedging
XVA historical VaR
Advanced Scenarios Engine
What-if on trades: novation, partial and total unwind, new trades
What-if on market data: bump your curve or shift your surfaces
What-if on CSA: change attributes and discount
Stress scenarios
Custom scenarios
On-the-fly results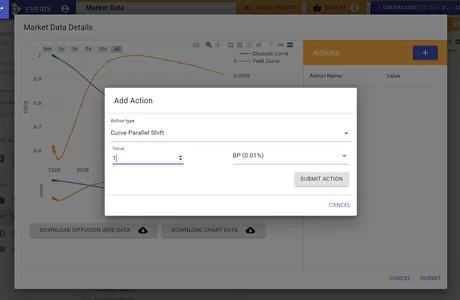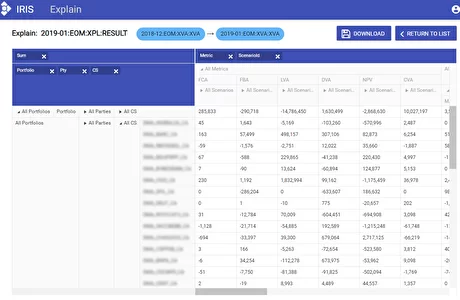 Automatic XVA Explain


Stock (add, remov, mature etc.)
Market (IR, FX, Volatility etc)
Static (CSA changes, discount change etc.)
Time
Configuration (pricer, diffusion change, etc.)

Orthogonal and cumulative effects
CSV Export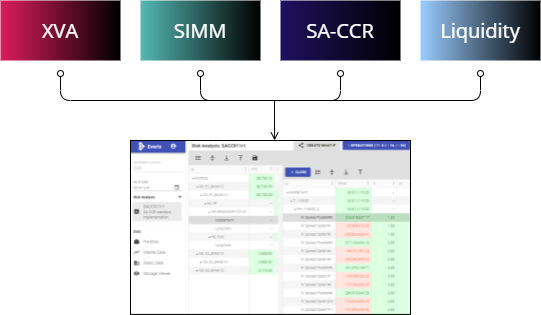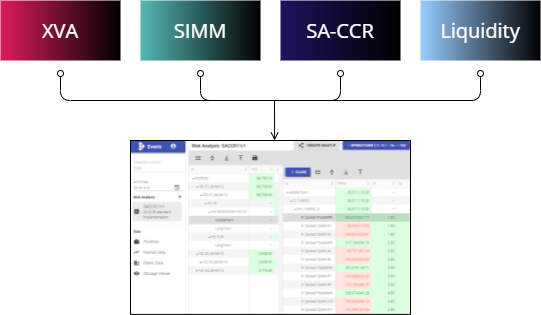 Consolidated view of all charges
Get ready to see it in action!
Describe what you need and we will arrange a demo
XVA requires a lot of computations during Monte-Carlo stage. We execute it on a well-sized and automatically deployed infrastructure.
You can host it at your organization, in your Cloud, in our Cloud or even on a single server.

SA-CCR Calculator
Learn about the most advanced SA-CCR calculator on the market

ISDA SIMM™ Initial Margin
Learn about our out-of-the-box implementation of ISDA SIMM™

Rix Aggregation Engine
Learn how we achive high flexibility of our XVA solution with Rix aggregation engine